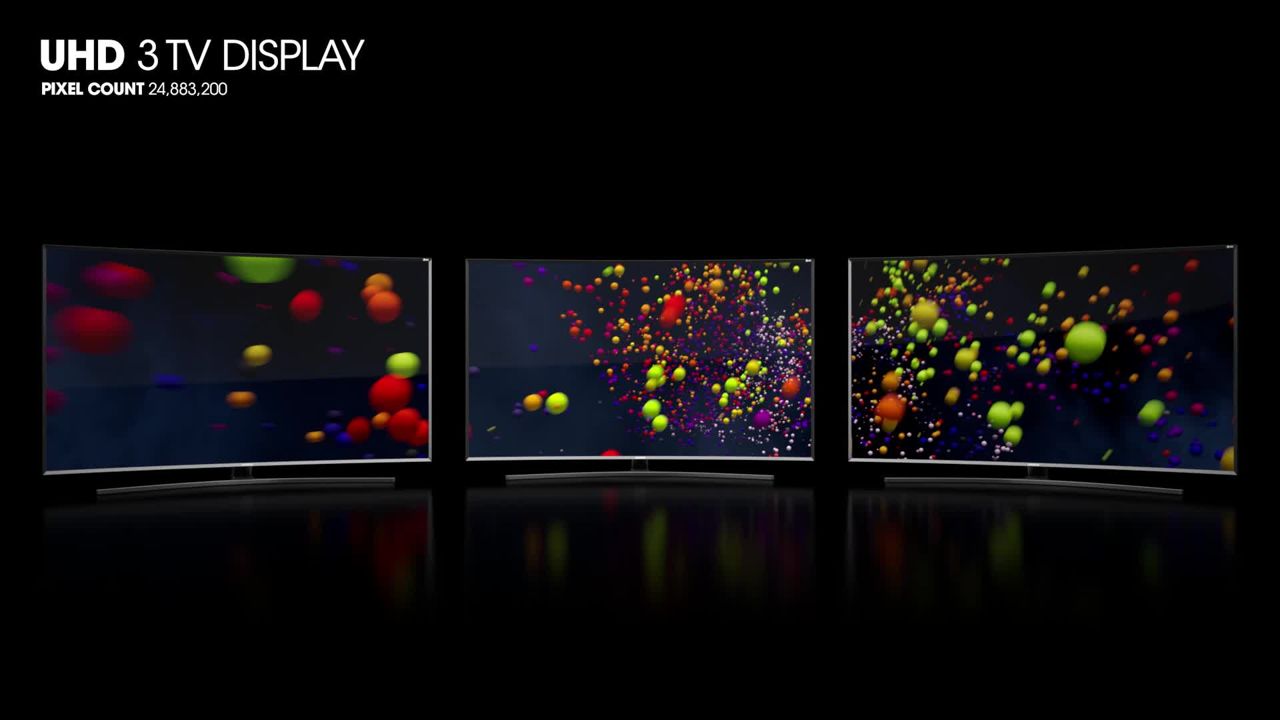 Samsung Electronics America commissioned Kollins Communications to visualize and create an impressive in-store display to showcase the HDR (High Dynamic Range) capabilities of their new Ultra HD 4K televisions. Kollins engaged Nice Shoes Creative Studio to visualize and deliver three elements that would demonstrate the powerful imagery of this new format across three curved 4K screens installed in Best Buys throughout the USA.
"Ultra HD has a minimum of four times as many pixels as High Definition resulting in a much higher resolution picture, and HDR capable displays provide a greater range of luminosity compared to standard imaging exposure, as well as more detail in the highlights and more inherent contrast in the image," said Nice Shoes Creative Studio EP Angela Bowen. "Being a studio that has the creative talent, a strong knowledge of color science, and unparalleled technological support puts Nice Shoes in a unique position to aid clients as they create imagery for this new medium."
Creative directors Harry Dorrington and James Coulson led teams to create the animated pieces Poppy and Quantum, both of which utilize colorful particles to illustrate the immense amount of pixels that come together to illustrate the capabilities of Samsung's displays. Coulson also led a team on Rose, which featured the live action element of a dancer on the center display, with animated particles emanating off of her dress, swirling into the other monitors on the right and left, taking the shape of a rose. CG Directors Andy Zazzera and Steve Parish worked closely with the studio's engineers to create and refine workflows to handle the massive resolution of the pieces, which came in at 12K total for each video.
All three pieces, along with five live action demos shot by Kollins, were graded by colorist Lenny Mastrandrea who worked meticulously to show the full potential of the imagery and displays. "HDR offers up not only a larger canvas, but an expanded color palette," said Mastrandrea. "The saturation was pushed, as were the luminance levels, in order to maximize the potential of the color space."
In order to better visualize the final imagery, Mastrandrea graded with one of Samsung's displays as his reference monitor.
"This project was really interesting because it centered around some new cutting edge TV technologies." says Steve Volante, Creative Lead at Kollins. "Since we are introducing Samsung's new series of premium televisions, there was a demand for extremely high quality images. This went along with an aggressive timeline for completing the project. The team at Nice Shoes brought a lot to the table both creatively and technically. This enabled us to meet the project standards and deliver on time."
Nice Shoes Color & Finishing EP Tara Holmes expects the proliferation of UHD and HDR-capable screens to open up creative opportunities for brands, agencies, and post production artists.
"We're in the early stages of a whole new broadcast standard with more colors, and high dynamic range is going to make what came before look grey and dull in comparison," said Holmes. "Working with HDR imagery requires precision color grading, which means that you want to put it in the hands of professionals. Creating imagery in this format demands the experience and skill that can only come from a top level colorist."